Grupsa in the the new Ovalle Hospital Operating Room (Chile)
Only a few months until opening the new Dr. Antonio Tirado Lanas in Ovalle Hospital (Chile). With more than 85% built, Chilean authorities expect it to unveil in 2019 to cover more than 215,000 inhabitants with the latest technology and medical and healthcare equipment. z
The new Ovalle Hospital, the largest in the province, will have 41,000 m2, 7 operating rooms, more than 210 hospital beds and 419 parking spaces on the surface; as well as areas of surgical hospitalization for adults, pediatrics, neonatology, gynecology-obstetrics, payment stay zone, psychiatry and heliport.
Grupsa Door Systems has installed its Modular Panels for Operating Rooms Clean System as a solution in the surgical area: ORs, corridors and pre-anesthesia area. With lacquered stainless steel finishes, the panels are prepared for the installation of electrical registers, gas sockets, diagnostic and visualization equipment (control screens).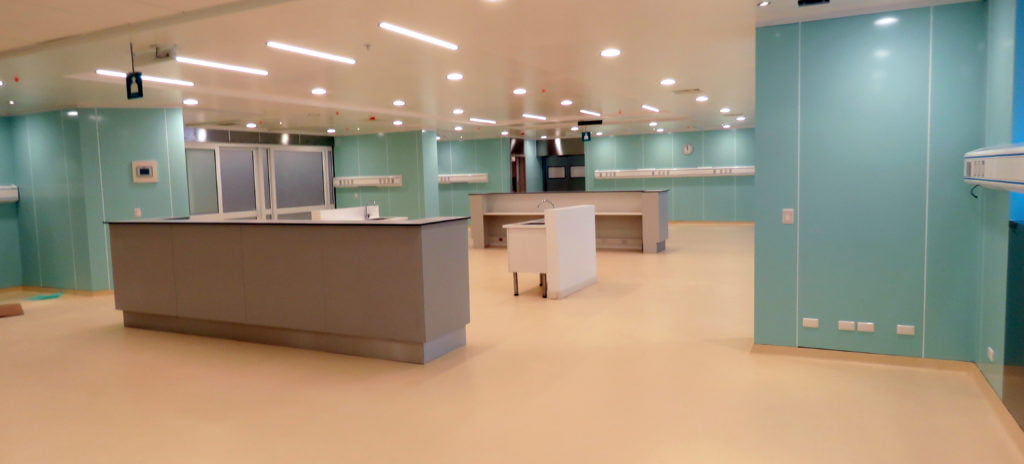 Pre-anesthesia area, Ovalle Hospital
Together with the paneling, Grupsa has installed products from the Hospital System range: Hermetic Sliding Doors HS-201 to access operating theatres, a hygienic and safe solution with lead lining and stainless steel finishes; Automatic swing doors HS-202B for the pre-anesthesia area; as well as Observation Windows HS-Q3 for the medical supervision and radiology areas (with leaded glass).