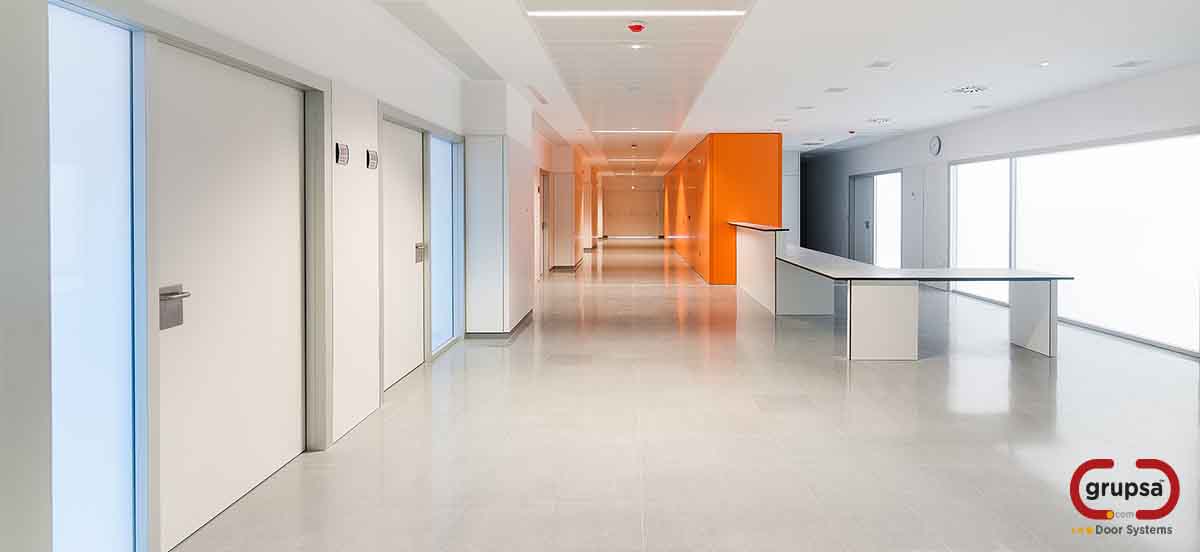 The Technical Doors Kompak System made of High Pressure Laminate Panel (HPL) with antibacterial finish (according to JIS Z 2801 standard) are adapted to the needs of hospitals and clinics. Thanks to its compact design and versatility, it can be adapted to multiple hospital applications, such as consultation rooms, rooms, recovery rooms, laboratories or hospital radiology areas; but also to uses beyond health, such as morgues, schools or institutional buildings.
Our range of interior hpl doors are designed and manufactured in Spain under European regulations, consisting of two HPL sheets with a highly durable and resistant injected polyurethane core, aluminum frame and a smooth surface without moldings. They are highly resistant to humidity and impact according to the standard (CTE-DB-SB AE Class 4 & UNE-EN 41955 / 41955-2 Class 4), allowing a low maintenance cost and a long product life.
Highly resistant to impact according to European regulations
Low maintenance cost and long durability
High customization and wide catalog of optional elements, visor dimensions, opening automation and availability for radiology.
Technical specifications
Standard clear passage widths from 620 to 2950 mm, with single, double or unequal leaves.
Standard finishes in six colors.
Technical doors with concealed hinges.
Stainless steel handles.
Different types of visors (dimensions, shape ...).
Protection for hospital beds up to 400 mm high.
Grupsa AGB operator automatic opening.
Lead protection for radiology rooms.
Design and special dimensions on request.