The VP Plaza España Hotel in Madrid, recently opened 5 star hotel, has a Grupsa revolving door. Known for the most exclusive services for clients, it is located in the central Plaza de España and Gran Vía de Madrid (Spain), near the most emblematic monuments such as the Almudena Cathedral, the Senate or the Plaza Mayor.
The access to this hotel presented wide complexities, due to its exclusive interior design and the architectural structure designed by its architects. The Technical Office of Grupsa, present throughout the access design process, proposed an optimal solution to accommodate the expected large volume of traffic, as well as adding maximum comfort for hotel guests to allow a smooth and safe passage.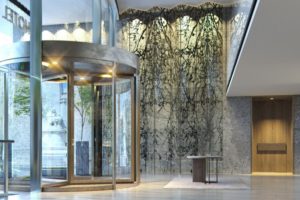 The option chosen has been the Automatic Revolving Door RS-Color of special design, more than four meters high, stainless steel with bronze finish and anti-fingerprint treatment; and three sheets that allow to absorb a high volume of traffic of people. This model of the Rotary System range, thanks to its versatility and its variety of finishes, has adapted naturally to its glass facade, which allows natural light to pass to the reception area and its restaurant.
The installation is thus adapted to the EN 16005 Standard, which guarantees greater safety for users. In addition, its ergonomics prevents the entry of air directly, optimizing its air conditioning system, making the most of the useful space and avoiding access to excess noise from outside, optimizing the building's ecological efficiency to the maximum.